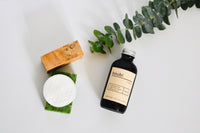 A crowd favorite, our best- selling toner
Targets hyper pigmentation, acne, texture and uneven tones. Suitable for all skin types
Shop Now
You can also shop Boubi Skin at...
What are people saying?
Love the toner, love the service. The exfoliating toner is by far the best toner I've used and trust me I've used plenty of toners before, I have been using this for one year now almost and it really helped reduce appearance of my acne scars and brightened up my skin tone! I'm not ever using any other toner. Love boubi. :)

Nahida U.
Love your products! Been using the exfoliating toner and lavender overnight oil for a month now! Love it so much. Skin is so clear. Cant wait to order more!!

Marissa C.
Night time skin saver! I love these products! The skin oil is very moisturizing and not too oily, the most is very refreshing and gives a nice cool calming feel.

Leialae K.
Featured on...
Check out the different places we've been featured in! SEEN Magazine, Divine Enthusiast Magazine, Yemeni American News & more!